Val di Pesa
The towns and sights of the Val di Pesa in Tuscany, Italy

A villa in the Val di Pesa
The Pesa is a river 53 km long that traverses the Provinces of Florence and Sienna in Tuscany, Italy. The Val di Pesa - the Valley of the River Pesa, is the name given to the areas along the river and also includes much of its watershed.
The average altitude of the River Pesa basin is 286 m. The river is effectively a seasonal torrent in parts and remains without water in its final stretch during the summer.

The River Pesa arises from the confluence of several tributaries in the area located between the Badiaccia in Montemura (675 m) and Badia a Coltibuono (628 m) at the border of the provinces of Sienna and Florence. After descending to the south-west to the so-called Palace of Radda, the river turns to the north-west and maintains this direction, touching Sambuca in the municipality of Tavarnelle Val di Pesa and then Bargino and Cerbaia in the municipality of San Casciano in Val di Pesa, San Vincenzo a Torri in the municipality of Scandicci, Ginestra Fiorentina in the municipality of Lastra a Signa and finally crosses the town of Montelupo Fiorentino where it flows into the Arno.
Some of the towns and villages along the Val di Pesa that incorporate the name of the valley into their names are:
Bargino in Val di Pesa

Montagnana Val di Pesa

Cerbaia in Val di Pesa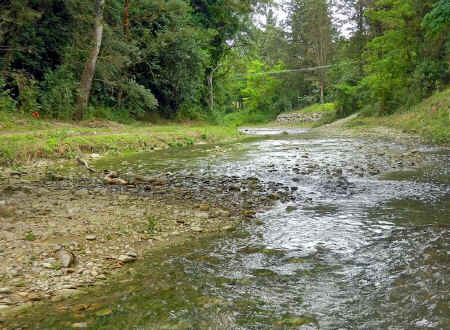 The River Pesa
Emanuele Repetti in his famous Dizionario Geografico Fisico Storico della Toscana lists the historic stone bridges that are located along the course of the Pesa, starting with the one located near the Fosso delle Stinche and continuing with that on the via Chiantigiana at the level of Poggio di Monte Bernardi, the Romagliano located at Sambuca Val di Pesa on the via Senese-Romana, the grandiose Ponte Nuovo also on the via Senese-Romana at the foot of Tavarnelle Val di Pesa, the bridge at San Casciano located on the road to San Pancrazio and finally that at Cerbaia.

The sources of the River Pesa are to be found in the following municipalities.
Scandicci (FI)

Lastra a Signa (FI)

Web hosting, web design, content management by ammonet InfoTech
Copyright © ammonet InfoTech 2013 - 2021 . All rights reserved.